Greetings Michigan Job Seekers,
Hope you are ready to meet and interview with over 40 recruiters at the Hired in Michigan Job Expo on September 30. We want to help you get on the right career path in your job search. Enjoy this free e-book provided by FindTheRightJob.
"Job Seeker Strategies to Stay Ahead of the Career Curve"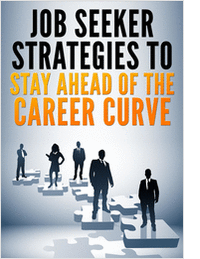 From the initial hunt, to the interview process, to your workplace demeanor, this eGuide shares critical strategies for staying ahead of the career curve while you're searching for a new job.
Job hunting can leave you either excited or frustrated … or both! It's all a matter of how you approach it. With our compilation of helpful tips, tricks, and advice, you'll be confident to get out there and WOW your prospective employer in no time.
These 5 Job Search Trends Might Change Your Whole Strategy

Inside the Mind of a Hiring Manager

Do You Have a Job Tool Kit? Create One and Get Hired

Wacky Job Interview Questions and Answers

Plus 8 additional articles to boost your job search …
Offered Free by:
FindTheRightJob